I am all about getting mum's into the picture, and the first step that I personally missed out on, was not being photographed during either of the pregnancies, which is why I have started hosting a FREE "Bump Hour" events (maximum of 8 spaces per event).
As a Leicestershire, Northamptonshire or Rutland based mum-to-be, you can pop along and have a few images of your bump – at no sneaky cost, no selling! We simply ask for a £10 donation to the local Home Start Team, who do incredible support work with new local mums.
Following Covid we made some tweaks. You will get a time slot, so you won't meet anyone else, and there are no refreshments.
Simply book your place below with the £10 donation. There will be nothing else to pay 🙂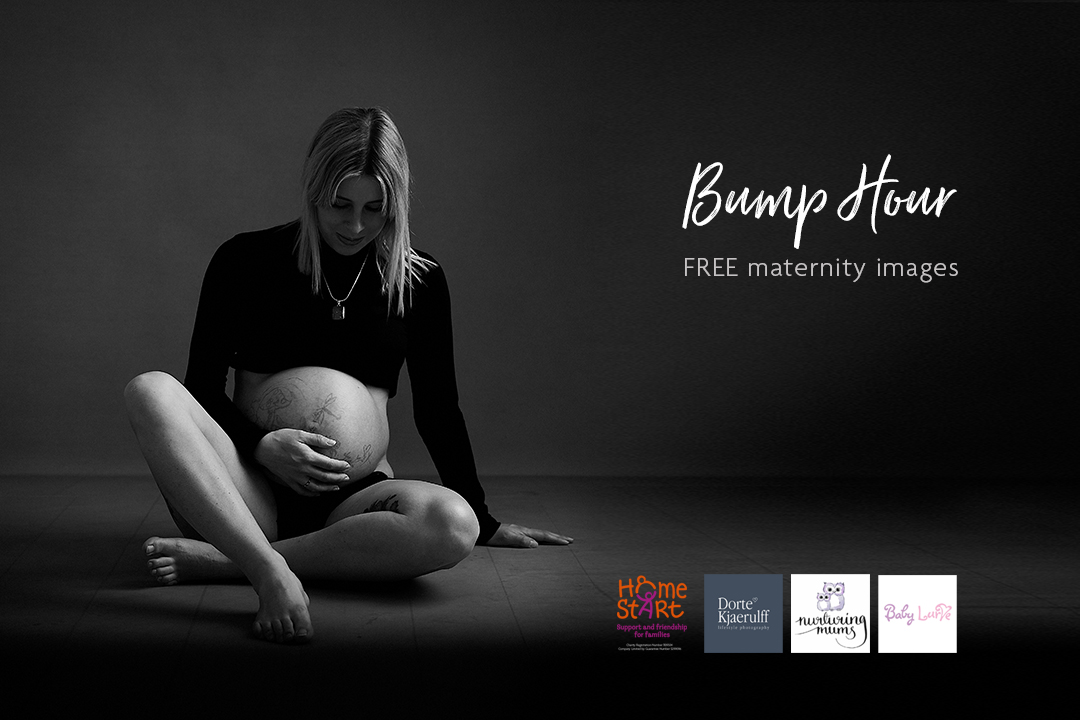 Once you are booked in I will send you a session guide with tips for what to wear and genereal details about the event.
I'm currently offering a day time option too, so you have to choice of evening (usually 6pm-8pm, sometimes we start earlier if needed) or late morning.
I allocate finial timings the week before the event when I know who is bringing young children, but you are welcoemt o request early/late slots.
You come and have your pcitures taken and then you simply recieve your digital files – there is nothing else to pay!
Maternity film, or Bump family film if you prefer...
I fell into creating these maternity films really. During Covid I did a lot of outdoor maternity photography, and hardly any other sessions were really able to go ahead, so I started making films, because we had the time and they look so mighty beautiful.
They are particularly entrahling when you incolve children too, and I think having your "last" baby is different, it feels significant knowing you have no plans to ever be pregnant again. And you might even have those guilty feeling surrounding your child having to share your attention with a new sibling - it's defintiely a phase in life worth capturing.
Or maybe it's your first pregnancy and you really just want to do something extra special, and record your thoughts and expectations - in fairness I would no doubt indulge in revisiting my expectations of having kids before we had our first 😉
You could even combine a maternity film with a baby film and have the best of both phases.
What's your idea
If you have a loose idea get in touch, and even if you have absolutely no idea but just like the look and feel of this, just get in touch and I am never short of ideas 😉
I don't have capacity for very many big family films, so it really is worth booking/planning ahead for this kind of session.
Maternity Film & photography
Stand alone
Don't forget to check out my chaity Bump Hour event, which is just £10! However, if that doesn't suit, you are welcome to book stand alone maternity photography and/or film.

:: Roughly half an hour

:: Photography

:: Film

:: Digital files

:: Fine Art Print of your choice 9x6
Maternity film & photography
With Newborn shoot
For the very best value option, book your newborn session and Maternity film& photography at the same time.

:: Roughly half an hour

:: Photography

:: Film

:: Digital files

:: Fine Art Print of your choice 9x6