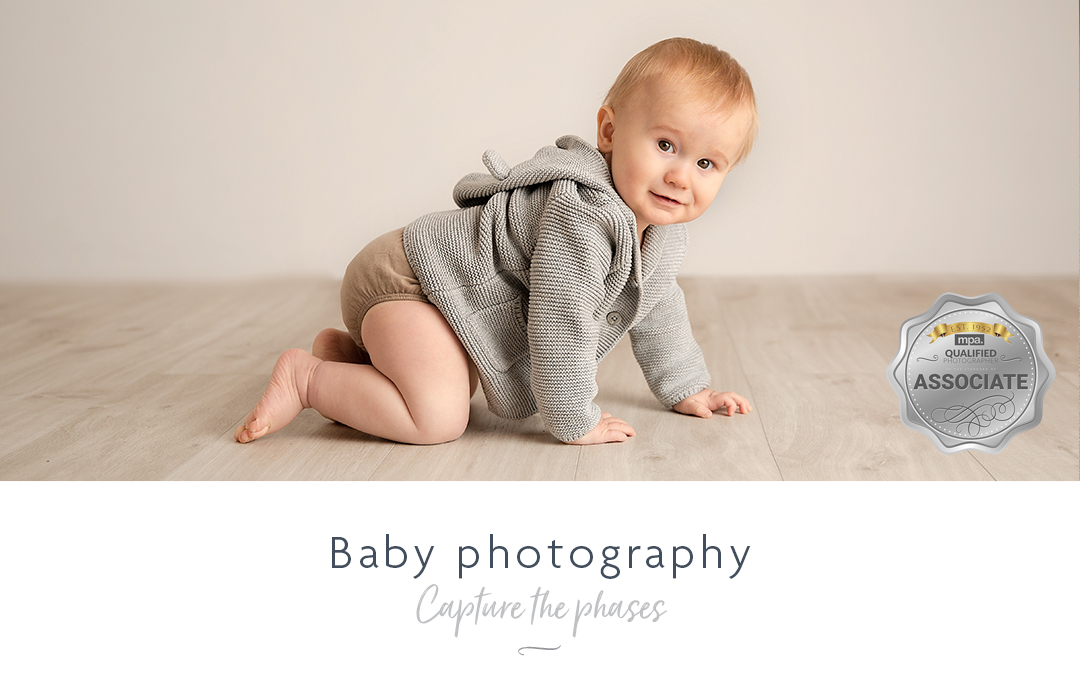 You dedicate your life to looking after your baby, but they change so quickly, and before you know it those beautiful baby cuddles will turn into toddler tantrums followed by school uniforms.
It is a tough little stretch being at home with little ones, and it is tempting to wish life away, but the older my boys get, the more I desperately want to revisit those baby days – I feel I am only just catching up emotionally, and I indulge in the details of those early baby photography memories. Mums don't feature early enough in images with our children, so I will always include parents in the session too – you don't have to choose them, but I will include you 😉
My heart is in images with emotions and I will always aim to give you a mix of perfect portraits and more natural images that shows all your baby's milestones and personality.
I offer baby photography in my Market Harborough studio, which is set up specifically for babies, but I am also happy to photograph babies on location. If it is a colder time of the year and your baby is sitting and/or crawling studio is perfect. If your baby is already confidently walking then location might work better, and I offer baby photography on locations throughout Leicestershire. 
If you missed out on newborn images, this is your oppertunity for amazing baby pictures, full of expressions and personality!
What age is best for photographing baby?
Newborn
The first 10 days are hands down the most magical time, to capture something really unique, to keep forever. In these first few days of life your little one looks totally newborn, with perfect little features, but they change and disappear in a flicker of a moment. Newborn photography is the one thing where you meet the most parents who will say "I wish we had newborn pictures done".This really is not a stage to miss!
It is important to contact me before your baby is born. Find out about my work as a newborn baby photographer here 
14 days – 6 months
Once you baby is "beyond newborn" and up until crawling, I focus on elements that shows development mile stones, for example being able to hold their head up, exploring hands and feet, sitting up etc. It depends on the type of images you are after, but if you have your hopes set on images with a beautiful smile, then wait until your baby is 6 weeks+ and you know you can trigger those smiles. Consider the difference in images of a young baby "only" able to lie down, compared to images of a slightly older baby able to sit up and explore the world around them. If you had newborn images done, perhaps you are happy to wait for baby to sit up before your shoot. But if you missed the newborn images, you will probably want to get pictures as young as possible.
6 – 12 months
All babies develop differently, but at this age most babies will sit up very well and start to crawl. It can generally be a good idea to get baby pictures done before baby starts walking, as it gets harder to keep them in place.
This age is lovely to photograph because they are now very curios and will explore everything and have fantastic expressions.
this is a lovely age to photograph because real personality is starting to shine through. If you baby is walking patience and attention spans are very short, and it works best doing these shoots outside, with more space and opportunities to vary the activities.
How to make a booking
Please contact me to make a booking. We can have a chat about where and when you would like to do your pictures, and I will take a few contact details. Subsequently I will send you an invoice for the session fee, which is payable up front to secure your booking. You can pay via bank transfer or by cheque.
I offer baby photography in Market Harborough, Leicester and Leicestershire.
I occasionally have special deal for mini baby sessions, please double check in the special offer section.